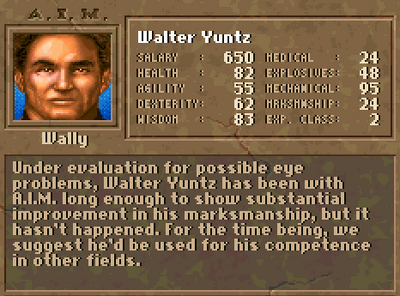 Appearances: Jagged Alliance , Jagged Alliance: Deadly Games . Nonplayable and an alum in Jagged Alliance 2 .
Biography
Edit
"Under evaluation for possible eye problems, Walter Yuntz has been with A.I.M. long enough to show substantial improvement in his markmanship, but it hasn't happened. For the time being, we suggest he'd be used for his competence in other fields." - Jagged Alliance
"Someone once said that if Wally didn't have bad luck, he wouldn't have any luck at all. After learning that he did indeed have problems with his vision, Wally was scheduled for corrective surgery. The operations should have put his poor markmanship behind him forever but the laser Wally was placed under experienced a programming error. Now totally blind, he and his lead Chippy, serve as Dr. Eli Summers' caddies on the Seniors Pro Golf Tour." - Jagged Alliance 2 Alumni gallery
Equipment
Edit
Relationships
Edit
Additional info
Edit
Odd accent. Hard to place.
An excellent mechanic, with a friendly demeanour.
A terrible shot, with the "hopeless shot" trait eliminating any hope of improvement.
Has a normal sight range despite his purported eye problems.
"I'm sure I can help you out... But I hope you realize my aim has been a little off lately!" - hiring
"Ah, before you go - I want to make sure that you have not overlooked my inconceivably strong mechanical skills!" - on call, Deadly Games
"Guzzman is trouble. You've been warned!" - on call, Deadly Games
"I...think? I see something..." - on spotting an object
Ad blocker interference detected!
Wikia is a free-to-use site that makes money from advertising. We have a modified experience for viewers using ad blockers

Wikia is not accessible if you've made further modifications. Remove the custom ad blocker rule(s) and the page will load as expected.