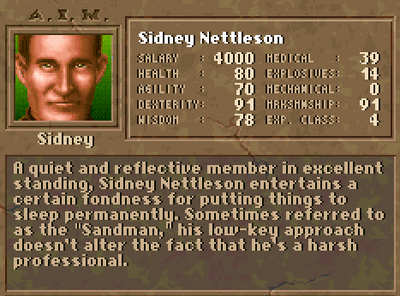 A mercenary hirable from A.I.M., first appearing in Jagged Alliance.
Appearances: Jagged Alliance , Jagged Alliance: Deadly Games, Jagged Alliance 2, Jagged Alliance 2: Unfinished business,Jagged Alliance 2: Wildfire, Jagged Alliance: Back in Action.
Character Info
Edit
"A quiet and reflective member in excellent standing, Sidney Nettleson entertains a certain fondness for putting things to sleep permanently. Sometimes referred to as the "Sandman, his low-key approach doesn't alter the fact that he is a harsh professional." - Jagged Alliance

"Whether it's sharing a spot of tea with British blue-bloods or putting a .38 slug into an unwanted nuisance, Sidney does it with poise and dignity. Sidney combines the mannerisms of the upper crust with the lighting quickness of a Wild West gunslinger. Years of avid cricket-playing have also given him a much-feared throwing arm." - Jagged Alliance 2
Additional info
Edit
Snob, prim and proper.
No matter what the situation, he never loses his dignity.
Formal British accent.
Cheerful, polite, optimistic professional.
Equipment
Edit
Jagged Alliance
Edit
"Sorry, but I have personal commitments around here. I'm only taking local assignments for a week or so!" - initial refusal to hire
Jagged Alliance 2
Edit
"Sorry, Sidney Nettleson is currently unavailable. However, if you'd be kind enough to leave your particulars, I shall attempt to make contact with you shortly." - answering machine
"If you won't be needing your telephone for the next couple of hours, I'd be more than willing to fax you my references." - on call
"You don't seem prepared to make a committment at the moment.  Perhaps I'll be here when you're ready.  Tally-ho!" - on call for too long
"Sorry for the intrusion. I am currently soliciting offers for future employment and thought you might be interested in proposing a contract extension?" - Contract expiring soon
"Sorry for the bother, but I thought I should mention that my contract shall be completed in full soon." - Contract about to expire
"I must say, I was looking forward to seeing this conflict through to its conclusion. However, I could very well be back. Tally-ho!" - Contract expired.
"Jolly good. I enjoy getting those minor technicalities out of the way so I can concentrate more on matters at hand." - Renewed contract
"I could rattle off a few hat jokes, but that would be most distasteful." - Seeing head pop
"I'd marry that girl, if she wasn't already married of course." - Scope takes a kill
"No. Sorry... Arulco is already rather littered with your casualties." - refuse to join
Relationships
Edit
Disliked by
Edit
Ad blocker interference detected!
Wikia is a free-to-use site that makes money from advertising. We have a modified experience for viewers using ad blockers

Wikia is not accessible if you've made further modifications. Remove the custom ad blocker rule(s) and the page will load as expected.