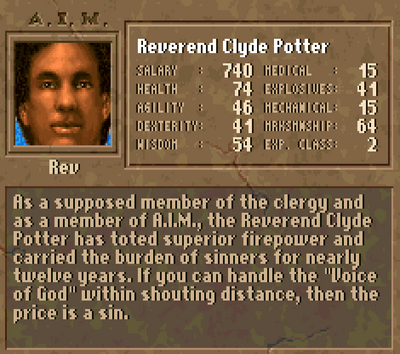 Appearances: Jagged Alliance, Jagged Alliance: Deadly Games. Nonplayable and an alum in Jagged Alliance 2.
Biography
Edit
"As a supposed member of the clergy and as a member of A.I.M., the Reverend Clyde Potter has toted superior firepower and carried the burden of sinners for nearly twelve years. If you can handle the "Voice of God" within shouting distance, then the price is a sin." - Jagged Alliance
"Due to numerous complaints from the organizations atheist members, the combat chaplain position was eliminated from A.I.M. and the preachy Potter, as one of our least utilized members, was eliminated as well. After leaving A.I.M., Reverend Clyde Potter took a position with the Innercity Church of Christ in Baltimore. He currently denies ever having been associated with A.I.M.. He returns his pension checks and refuses to take our calls." - Jagged Alliance 2 Alumni gallery.
Additional info
Edit
Speech clearly inspired by the "archetypical black preacher", to the point of cliché.
Equipment
Edit
Relationships
Edit
"The world wasn't built in a day, my dear brother! Metavira is quite a distance... and before I go there, I'll need to know more about YOU!" - Initial refusal to hire
"Once I arrive, I will expect you to attend my service EVERY MORNING AT SEVEN! Of course after that, I will be free to WASTE whomever you choose!" - hiring
- "Do not feel guilty about cheating O'Brien,my dear brother. I have heard the man's confession. He makes Judas look like a misguided tattletale." -successfully haggle the price 
Ad blocker interference detected!
Wikia is a free-to-use site that makes money from advertising. We have a modified experience for viewers using ad blockers

Wikia is not accessible if you've made further modifications. Remove the custom ad blocker rule(s) and the page will load as expected.