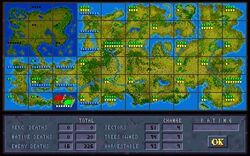 Metavira is a fictional island where the original Jagged Alliance takes place.
Geography
Edit
The island of Metavira is located in the Southern Atlantic, and it is divided into 60 sectors. Metavira is a former nuclear testing site so the tests have mutated its trees. These trees are called Fallow trees and they produce unique sap for medical purposes. Fallow trees can't reproduce the sap.
Discovery
Edit
Several years after the nuclear tests a scientist named Brenda Richards discovers the island, including its important trees. Her father, Jack Richards is the leader of the scientific mission on the island. Brenda's assistant Lucas Santino finds out that the trees are very profitable and convinces Jack to establish another base on the other side of the island. However Lucas Santino takes over the whole island by force.
Notable people
Edit
Sector 1
Sector 2
Sector 3
Sector 4
Sector 5
Sector 6
Sector 7
Sector 8
Sector 9
Sector 10
Sector 11
Sector 12
Sector 13
Sector 14
Sector 15
Sector 16
Sector 17
Sector 18
Sector 19
Sector 20
Sector 21
Sector 22
Sector 23
Sector 24
Sector 25
Sector 26
Sector 28
Sector 29
Sector 30
Sector 32
Sector 33
Sector 34
Sector 35
Sector 36
Sector 37
Sector 38
Sector 39
Sector 40
Sector 41
Sector 42
Sector 43
Sector 44
Sector 45
Sector 46
Sector 47
Sector 48
Sector 49
Sector 50
Sector 51
Sector 52
Sector 53
Sector 55
Sector 56
Sector 57
Sector 58
Sector 59
Sector 60 (Starting point)
See also
Edit
Ad blocker interference detected!
Wikia is a free-to-use site that makes money from advertising. We have a modified experience for viewers using ad blockers

Wikia is not accessible if you've made further modifications. Remove the custom ad blocker rule(s) and the page will load as expected.