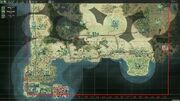 Quest - Recruit Hamous
Quest Pickup - Supermarket (D3 Map2) (Hamous)
Quest Location - Beach Promenade (D2 Map2)
Quest Finish Point - Supermarket (D3 Map2) (Hamous)
Really simple mission as you have most likely followed the road and taken the promenade on way to the supermarket, return to Hamous and he will offer to join.
Ad blocker interference detected!
Wikia is a free-to-use site that makes money from advertising. We have a modified experience for viewers using ad blockers

Wikia is not accessible if you've made further modifications. Remove the custom ad blocker rule(s) and the page will load as expected.