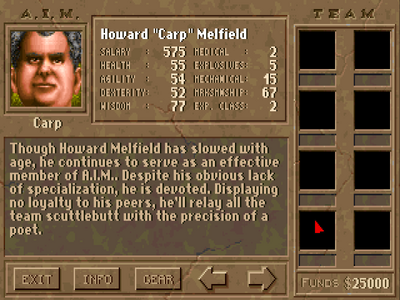 Appearances: Jagged Alliance , Jagged Alliance: Deadly Games . Nonplayable and an alum in Jagged Alliance 2 .
Biography
Edit
"Though Howard Melfield has slowed with age, he continues to serve as an effective member of A.I.M.. Despite his obvious lack of specialization, he is devoted. Displaying no loyalty to his peers, he'll relay all the team scuttlebutt with the precision of a poet." - Jagged Alliance
"Unable to excel in any given speciality, yet well-liked within the organization, Carp was offered a deck assignment with A.I.M.. Effective immidiately, Howard Melfield will be responsible for members Health and Safety, Retirement and Dental plans. He has also graciously agreed to chair the office Christmas Party Comittee." - Jagged Alliance 2 Alumni gallery
Equipment
Edit
Relationships
Edit
Is Liked by
Edit
Additional info
Edit
"It'll be great to see some of the guys again!" - When hiring
"No! Its not a girdle...its a French back and kidney supporter!" - when a male uses the hand icon on him
"Aye, I have my ear to the information pipeline, lad. And with me on your team, you'll have your ear to it, too!" - on call, Deadly games
Ad blocker interference detected!
Wikia is a free-to-use site that makes money from advertising. We have a modified experience for viewers using ad blockers

Wikia is not accessible if you've made further modifications. Remove the custom ad blocker rule(s) and the page will load as expected.