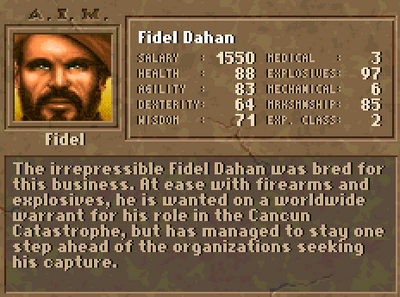 A mercenary hireable from A.I.M., and a mainstay of the series. Infamous for his aggressive and stubborn nature, and skill with explosives.
Biography
Edit
"The irrepressible Fidel Dahan was bred for this business. At ease with firearms and explosives, he is wanted on a worldwide warrant for his role in the Cancun Catastrophe, but has managed to stay one step ahead of the organisations seeking his capture." - A.I.M. Dossier, Jagged Alliance
"Due to numerous employee complaints concerning his refusal to follow orders, Fidel "Leave me alone, I'm busy!" Dahan was recently suspended for a thirty-day period. Promising a changed attitude, he was returned to active duty by A.I.M. though because he is so proficient with both firearms and explosives." - A.I.M. Dossier, Jagged Alliance 2
Additional info
Edit
Has a comical ruthlessness to him. Conveyed by a short, heavy, Cuban accent.
Usually mad about something, shows hints of a softer side but even that is tainted.
Extremely impatient. Type of guy that would force a square into a circle while blaming the square for his frustration.
Jagged Alliance 2 has Fidel "Not being quite himself lately". There are some hints suggesting this has something to do with the disappearance of Hurl E. Cutter.
Trivial bits of dialogue in various games suggest he may be homosexual.
Equipment
Edit
Jagged Alliance
Edit
Deadly Games
Edit
Jagged Alliance 2
Edit
Jagged Alliance and Deadly Games
Edit
"Yes... I work for you." - when hiring 
"I see guy here!" - when encountering an enemy
"Dis guy gonna get it!" - near miss
"Leave me alone, I busy!" - disobeying orders
"Somebody be shooting at me over here!" - attacked by unseen unenemy
"It have bomb!  But it no problem." - trap detected
"You need bomb guy, no?" "If you see Hurl, tell him I say "Hello!"" - on call, Deadly Games
Jagged Alliance 2
Edit
"Hello.. Fidel is in appliance." ,"Dis is taking much time" - on call
"How long?","You tell the bad guys Fidel is coming. You tell dem that." - hiring
"How dis thing work? Fidel no here now... Ok, I be here NOW, but no be here when you get message, or you no get machine, you get Fidel. One ting for sure. Fidel likes to kill. And Fidel likes money." - answering machine 
"Sorry I no contact you sooner. They take Fidel's computer. They say the find files of bad pictures. Is not true. I no know how they get there. Right now is good time for job far away. You come to AIM, we talk." - return email 
"I find dese bad guys.  Da chickens cannot hide from Fidel." - enemy in hiding
Relationships
Edit
Disliked by
Edit
Jagged Alliance
Edit
Due to his stubborn nature, Fidel refuses to move after he begins firing at a standing enemy. To remedy this, remove the weapon from his main hand, put it is a pocket, then put it back in his hand (use the lower side bar so no AP is spent). Also applies in Deadly Games.
Jagged Alliance: Deadly Games
Edit
Fidel will quit if he doesn't kill enough enemies, stating that the contract too boring and there isn't enough to kill.
Ad blocker interference detected!
Wikia is a free-to-use site that makes money from advertising. We have a modified experience for viewers using ad blockers

Wikia is not accessible if you've made further modifications. Remove the custom ad blocker rule(s) and the page will load as expected.