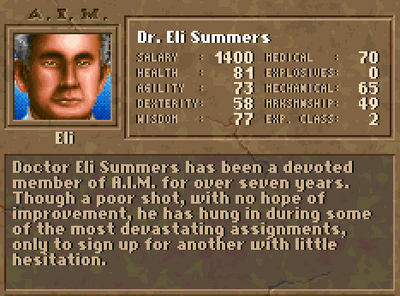 Appearances: Jagged Alliance, Jagged Alliance: Deadly Games . Nonplayable and an alum in Jagged Alliance 2 .
Biography
Edit
"Doctor Eli Summers has been a devoted member of A.I.M. for over seven years. Though a poor shot, with no hope of improvement, he has hung in during some of the most devastating assignments, only to sign up for another with little hesitation." - Jagged Alliance
"Doctor Eli Summers has been a devoted member of A.I.M. for over seven years. Though a hopeless shot with a firearm, he is deadly with a three-iron, and is currently entertaining the possibility of joining the Senior's Tour." - Deadly Games
"Doctor Summers was by all accounts a gamer who made himself popular with employers by accepting assignments with newcomers and going about his business in a non-intrusive manner. Although A.I.M. regrets his decision to leave the organization, we are rather pleased to report that the good doctor has turned his favourite hobby inot a profession. Currently playing on the Seniors Pro Golf Tour, Eli finished a respectable fourth in the Depends Open at Pebble Beach." - Jagged Alliance 2 Alumni gallery
Equipment
Edit
Relationships
Edit
Is Liked by
Edit
Is Disliked by
Edit
Additional info
Edit
Has the hidden "hopeless shot" skill, meaning his already poor marksmanship will improve only very slowly, if at all.
Has an even and traditional voice, reminiscent of public channel television or radio-presenters.
"I'll be there shortly!" - When hiring
"Short term memory is the first to go. As a licensed physician, I recommend a visit to your family doctor." - attempting to rehire after an unfair firing
Ad blocker interference detected!
Wikia is a free-to-use site that makes money from advertising. We have a modified experience for viewers using ad blockers

Wikia is not accessible if you've made further modifications. Remove the custom ad blocker rule(s) and the page will load as expected.