A mercenary hireable from A.I.M.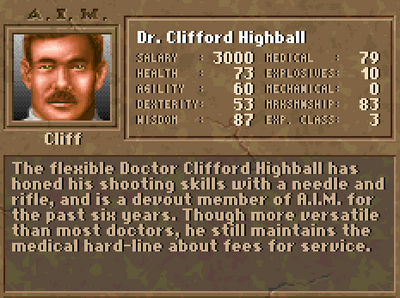 Appearances: Jagged Alliance , Jagged Alliance: Deadly Games , Jagged Alliance 2 , Jagged Alliance 2: Unfinished Business , Jagged Alliance 2: Wildfire.
Biography
Edit
"The flexible doctor Clifford Highball has honed his shooting skills with a needle and rifle, and is a devout member of A.I.M. for the past six years. Though more versatile than most doctors, he still maintains the medical hard-line about fees for service." - Jagged Alliance
"Cliff's health has improved considerably since he gave up alcohol and put himself on a high-fibre diet. This is great news for potential employers since it's next to impossible to find doctors with Highballs efficient combination of marksmanship and medicine." - Jagged Alliance 2
Additional info
Edit
We are told Highball has also turned his explosives hobby into a marketable skill.
Cliff has a South African accent. As such, Blood has a bad relationship with him due to Apartheid South Africa's tensions. Although that is one sided
Has a wife, who continually prepares long lists of things to do once he returns from assignment - a fact he harps on consistently.
"Your timing is bad. I just got back from an assignment... My wife gave me a list of stuff to do... Could bloody well take me a week to get through!" - Initial refusal to hire (Jagged Alliance)
"I wonder what the wife is up. Making up another of her bloody job lists, no doubt." - Idling time in Deadly Games
"Thank you for calling doctor Clifford Highball. I cannot speak to you at this time. Leave your first name and message, and I will return your call at a more opportune moment." - Answering machine (Jagged Alliance 2)
"No,you jackanapes! If I was suicidal,I'd just bloody well hang myself." - refuse to join (Jagged Alliance 2)
Equipment
Edit
Relationships
Edit
Is Liked by
Edit
Is Disliked by
Edit
A mercenary renaissance man, who's comparitively high cost to others of his level buys versatility, flexibility and reliability.  
One of the few mercs in v1.13 to hold the "Malicious" trait, granting bonuses to dealing stat damage and painful body-part-related injuries, with unusual implications.
Ad blocker interference detected!
Wikia is a free-to-use site that makes money from advertising. We have a modified experience for viewers using ad blockers

Wikia is not accessible if you've made further modifications. Remove the custom ad blocker rule(s) and the page will load as expected.