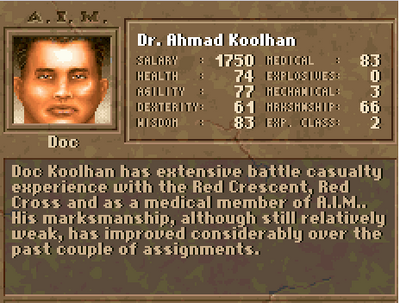 Appearances: Jagged Alliance, Jagged Alliance: Deadly Games . Nonplayable and an alum in Jagged Alliance 2 .
Biography
Edit
"Doc Koolhan has extensive battle casualty experience with the Red Crescent, Red Cross and as a medical member of A.I.M.. His marksmanship, although still relatively weak, has improved considerably over the past couple of assignments." - Jagged Alliance
"Doc Koolhan resigned from A.I.M. to focus his energies on his medical practice. He had been running a free clinic as a sideline in Tripoli for years. However, after six months of working their full-time, he closed up his office and joined Doctors Without Frontiers. At present, he's believed to be serving with the organization in Tunisia." - Jagged Alliance 2 Alumni Gallery
Relationships
Edit
Is Liked by
Edit
Is Disliked by
Edit
Additional information
Edit
voice changes significantly between Jagged Alliance and Deadly Games
"Searching for medical services? Allow me to introduce myself. I am Doc Koolhan, the affordable and dependable, licensed medical combat practitioner." - on call in Deadly Games
"This is UNACCEPTABLE." - firing on short notice
"Sorry, but my colleague Dr. Kranhium has advised me on the short term nature of this offer." - attempting to hire after unfairly firing Needle.
Ad blocker interference detected!
Wikia is a free-to-use site that makes money from advertising. We have a modified experience for viewers using ad blockers

Wikia is not accessible if you've made further modifications. Remove the custom ad blocker rule(s) and the page will load as expected.