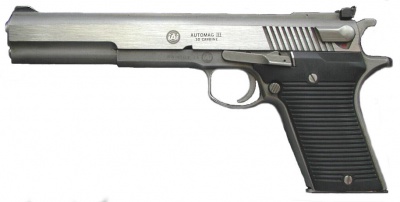 After finishing a quest, by escorting two American tourists to an airport, John C. will send you an email, and mentions some big guns which he has modified for a bigger punch. A few days later, arrives at the airport containing two of these guns. They fire 7.62x51N ammunition. The
AMT Automag III
 is featured in the game, and has been re-chambered to fire 7.62x51mm rounds from a 5-round magazine. This is the description for this handgun in Back in Action.

Ad blocker interference detected!
Wikia is a free-to-use site that makes money from advertising. We have a modified experience for viewers using ad blockers

Wikia is not accessible if you've made further modifications. Remove the custom ad blocker rule(s) and the page will load as expected.